2021 IN REVIEW
Learwife had a HELL OF A YEAR. Lovely reviews in the New York Times, Guardian Book of the Day, one of Waterstones' Best Books of 2021, Jane Smiley of A Thousand Acres fame apparently approving of the whole project in the Washington Post – it's been delightful. Bring on 2022!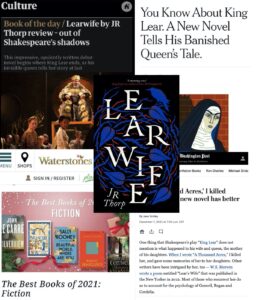 I was also profiled in the Times, and interviewed by Scala Radio, Dublin Book Festival, Hay Book Festival, and the Independent. 
It was also the Independent Bookstores Book Of The Month for November 2021! It's available at your favorite indie bookstores: Daunt's,Bookshop.org, Foyles, Dubray, Hatchards, and anywhere cool books are sold. The audiobook, read by the incomparable Juliet Stevenson, is also available on Audible and everywhere else.
I'm one of the top 10 debut novelists of 2021 in The Observer New Review!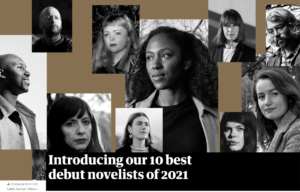 January 2021: Learwife is among the Irish Independent Culture Guide's most anticipated books of 2021!
PAST PRESS
The Economist "Prospero" 27 September 2019
"Jennifer Thorp, the librettist, scoured these letters, which are kept in the archive at the Wellcome Collection in London. "The weight of the pleas and vitriol that came at Stopes for decades almost has to be seen to be believed," she says. "She was a public beacon of aid in an age where birth control was highly illegal, sexual education was obscure and women in particular were often kept in the dark." Ms Thorp argues that the missives are well-suited to opera not only because of their emotional intensity but also because they had a kind of rhythm and pattern."
The Stage review of "Dear Marie Stopes", "Short But Potent", September 2019
"FOUR STARS: Dear Marie Stopes is short (45 minutes) but potent, with its sometimes heartbreaking text that comes from the thousands of letters written to Stopes in the wake of her book's publication. Mills and librettist Jennifer Thorp have judiciously chosen extracts that highlight the ignorance and fear that drove men and women to turn to Stopes….a first-rate addition to the catalogue of one-act operas."
"Dear Marie Stopes" has featured in the Independent, the Evening Standard, The Guardian and on Radio 4 Today. Here are some other excerpts from the press coverage!
"Desperation itself, Thorp remarks, "can be weirdly melodic. A lot of these letters, particularly from working-class women, had the same sort of rhythm, 'I am X years old, I've had this many children, this many have survived' … this hesitancy before they open the floodgates, and reveal this really deep, really intimate, really raw tragedy. There is a lot of innate poetry in that."
"I can't do the gonorrhoea duet! The opera about pioneer expert Marie Stopes", Zoe Williams, Guardian 7 August 2018
"Married Love felt like such a sea change because it was the first time this wealth of knowledge was made available to the public the world over," Nina Brazier, the opera's director, tells Stylist.co.uk.  Many women didn't know how to start or stop having children. Some didn't even know what sex was. Stopes also explained female sexuality and female libido in great detail, giving permission for women to have equal sexual desire to men and the right to bodily freedom for the first time."
"How Marie Stopes revolutionised British women's sex lives", Stylist, August 7 2018
"In an innovative collaboration with the Wellcome Collection, new chamber opera Dear Marie Stopes sees composer Alex Mills explore extracts from the thousands of letters Stopes received following the publication of her controversial 1918 sex manual Married Love."
"The best alternative hip opera shows to see this summer," The Independent, August 2018
OTHER PRESS
"There are strong folk-pop influences and also the bonus of a terrific libretto by JR Thorp, which Young adequately described as beautifully reflecting the rich world of monsters and battles. Young says he enjoys 'blurring' traditional senses when he composes, mixing in folk elements to classical, or classical ideas into pop."
Review of Beowulf, "Legendary Tale Is A Family Delight", Alan Wallcroft, Bromsgrove Advertiser 2017.