UPCOMING CHORAL WORK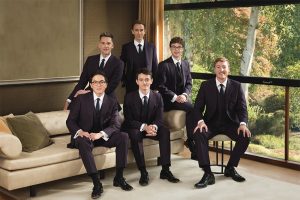 "A Suitcase Full Of Songs" premiered on 10 December 2019! This new project with Toby Young was a commission from The King's Singers and 300 performers from the AC Academy. The two combined to sing a suite of pieces exploring the experience of immigration, difference and harmony in the modern world.
Performances were on 10 October 2019 (Bushell Hall Solihull School, Solihull) and 11 October (Warwick Arts Centre, Coventry). 
PAST CHORAL WORK 
2019
"As One", commissioned for the High Sheriff's Concert of Bristol and performed by Exultate Singers, the Bristol Youth Choir and the Renewal Choir. Composition by Toby Young. Premiered 19 June 2019 at Bristol Cathedral in Bristol, UK.
"…..the piece explores some of the many seams that tie together Bristol's diverse communities, as well as considering some of the challenges facing the city today, in order to celebrate the creative and independent spirit that makes the city so unique."
"Schola has embarked on an exciting new commission involving a collaboration between composer Toby Young, writer Jennifer Thorp and visual artist Whitney Conti. Toby has written a set of three madrigals, which aim to explore the lives of people living with mental illness in order to give voice to those affected by the trauma, isolation and stigma of their separation from society." Information available here. 
Previous Years
"The Schubert Project: Heideröslein", commissioned by Oxford Lieder Festival, performed by Anna Dennis (soprano) / Daniel Norman (tenor) / Andrew West (tenor), Oct 2014. Music: Toby Young
"Four Motets After Bach", commissioned and performed by Armonico Consort, Sept 2015. Music: Toby Young
"The Astronomer's Carol", commissioned and performed by

Armonico Consort,

Dec 2015. Music: Toby Young. Hear it below:
"Under The Surface", commissioned by the Life Of Breath Project at the University of Bristol, performed by the Brabant Ensemble & Bristol University Singers, Nov 2016. Music: Toby Young
"Music, Make: Anthem For St Cecilia", commissioned for the Festival Of St Cecilia annual event held by the Musicians Benevolent Fund. Performed by the combined choirs of Westminster Abbey, St Paul's Cathedral  and Westminster Cathedral Choir, and performed at Westminster Abbey, Nov 2016. Music: Toby Young. Hear a segment below:
Annual Official Christmas Carol, commissioned by BBC Music Magazine, Dec 2017. Music: Toby Young